THIS IS FOR THE ONE who believes in seizing the moment and making it extra pleasurable. Your favorite line is Carpe Diem… and you mean it! You believe in the line "Forever is composed of now's." The Noah Smooth Operator EDT is an exquisite, fresh and spicy recipe with radiant crisp bergamot and spicy pepper top notes followed by floral, smooth finish. It lasts all day and wears well as your everyday classic scent or your nighttime scent. A longlasting scent that stays with you for 4-6 hours.
FAMILIAR SCENT PROFILE: Dior Sauvage and F Armaf Ventana Pour Homme Eau De Parfum
Top Notes : Calabrian Bergamot. Pepper, Middle Notes : Sichuan Pepper, Pink Pepper, Lavender, Vetiver, Patchouli, Base Notes : Ambroxan, Cedar
PHP 375.25
Regular price
PHP 395.00
Sale price
Unit price
per
(You save 5%)
deliver in 3-8 business days
SECURELY CHECKOUT WITH :
View full details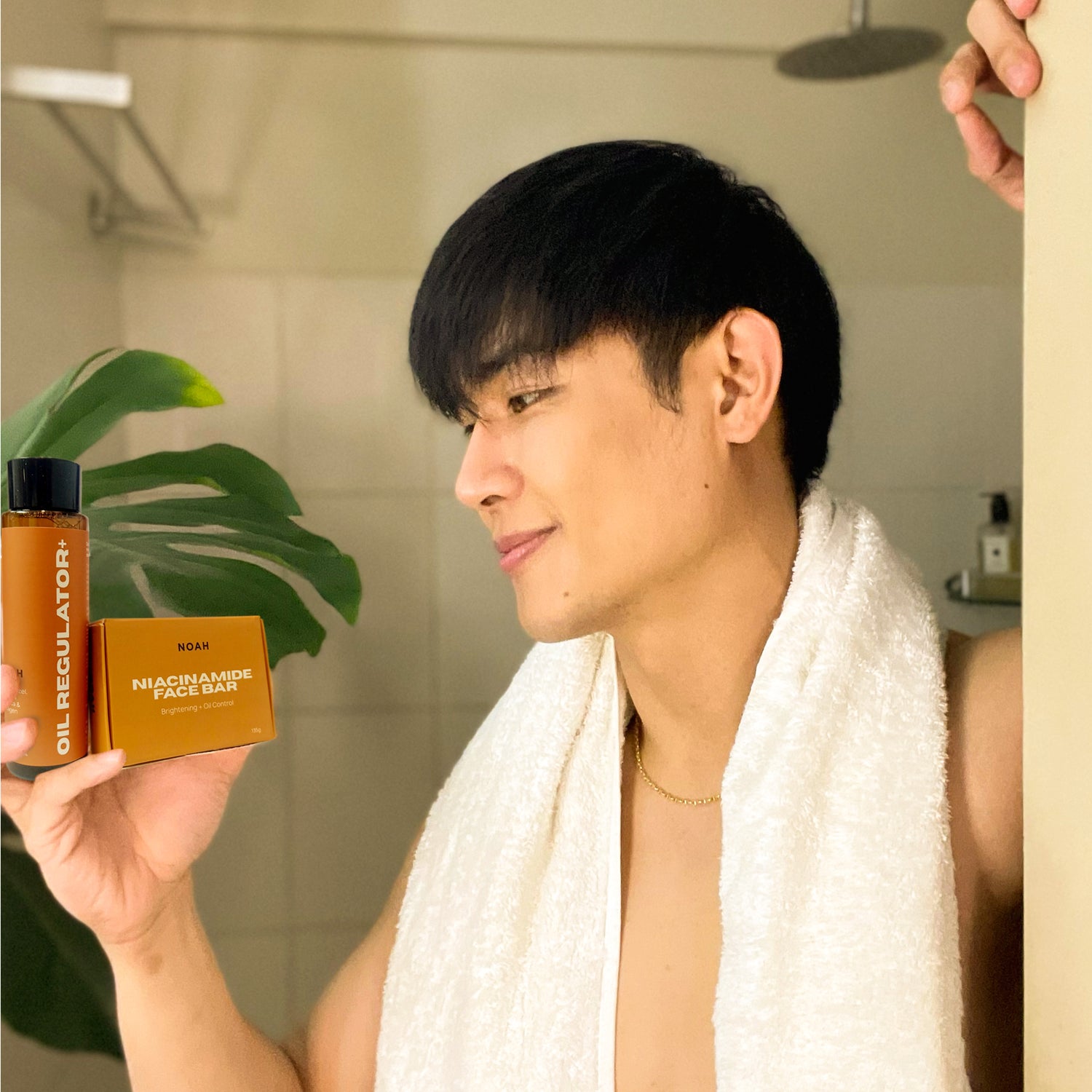 AWARD-WINNING SKINCARE.THREE-MINUTE ROUTINE.
Wash with the Noah Niacinamide Face Bar. Swipe that excess oil and dead skin with the Noah Oil Regulator Toner. Repair with the Noah Glow Boost Serum to reveal glowing skin day by day. That simple. Use morning and night, that's how easy your skincare routine is fixed with the Noah Skin Starter Pack.

Imagine waking up beaming with more confidence everyday and a face less oily and dull as you approach the day. That's how Noah can transform your day from dull to C-O-N-F-I-D-E-N-T. You can live your life with less fear, more YOU just because you're no longer holding back with great skin.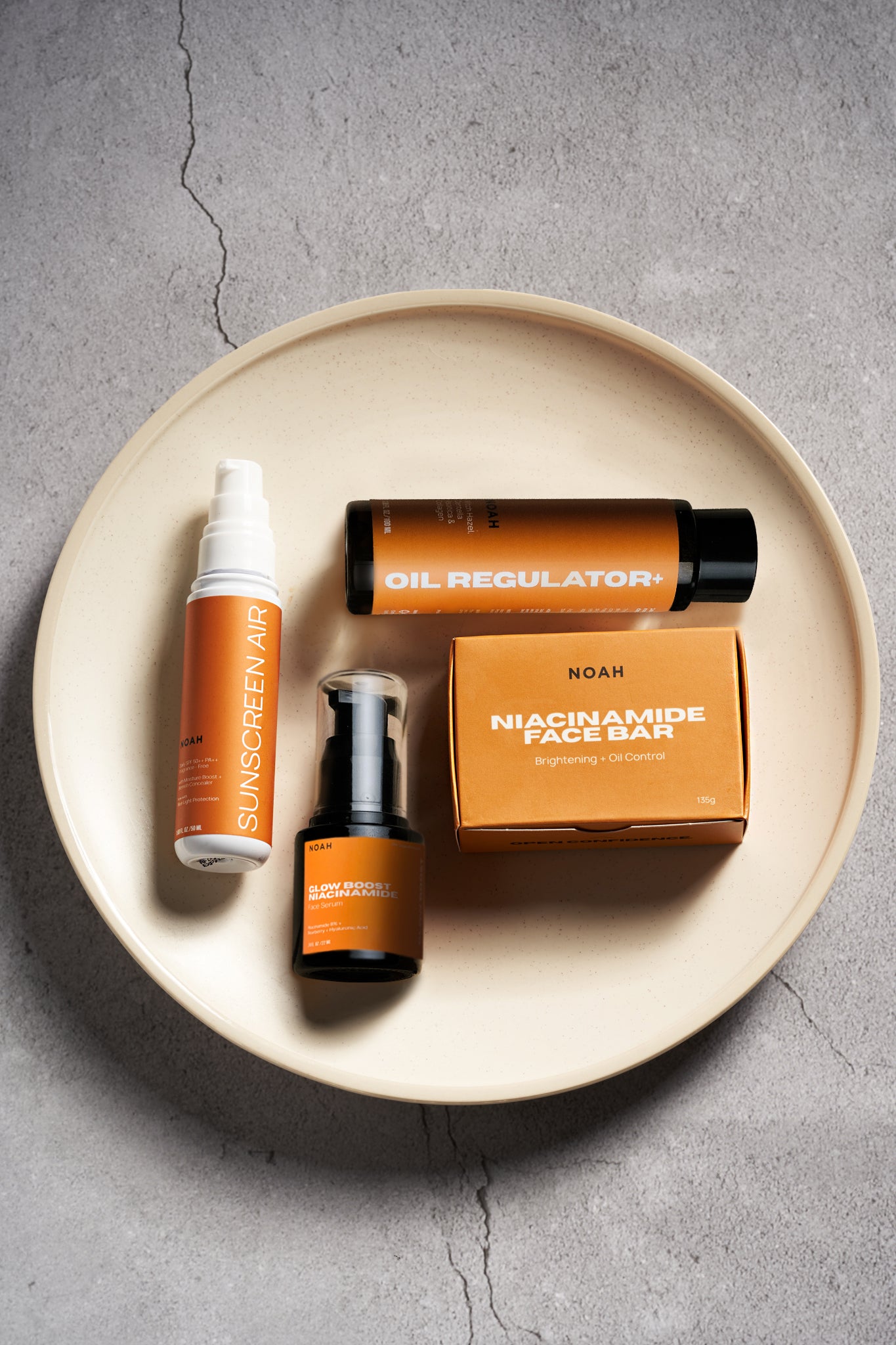 What sets us apart?
✔ Innovative and award-winning products
✔ 95% of our reviews are 5-star ratings on products and customers service
✔ Noah is changing the game in men's care. More heart. More real-life solutions.
Real Customers, Real Results
How to use it
Step 1

Use Noah Niacinamide Bar every morning and evening. Wash face for 30 sec. With gentle strokes. Pat with a clean towel.

Step 2

Use Noah Oil Regulator every morning and evening after washing it. Use cotton pad or your fingers, gently pat on skin.

Step 3

Put at least two (2) drops of Noah Glow Boost on the face and spread thinly on the skin.
Know more about Noah Solutions
See what our customers are telling about us...
Sa totoo nga lang, flattered ako kasi sng dami ngang nakakapansin na nagbobloom nga daw ako. Hahahahaha. Though my goal is to have a healthy skin. Ngayon lang din talaga ako nagkaroon ng skincare routine.

Adrian David B.

"Hello po. Just want to say subrang effective po ng Noah Niacinamide facebar. Dalawang linggo ko pa lang nagagamit pero nakita ko na agad ang effect. I notice that my dark spots are starting to fade at di na ko tinubuan ulit ng pimples after I start using this soap. As of now I can say na ang soap na ito ang pinakamagandang soap na nagamit ko."

Aldjoe D.G.

"Thanks Noah for my clearer skin and it makes me more confident because of my skin. Used the starter pack for 2 months and the change was so apparent!"

Lord John S.

"After 1 month and a half of using the Noah niacinamide face bar. This Noah product help me become more confident."

Datu Jomar S.
GOT QUESTIONS?
1) Noah Niacinamide Face Wash
2) Noah Oil Regulator Toner
3) and the Noah Glow Boost Serum, your 3-minute routine for less.
This skincare strategy is your best solution to more glowing skin less the guesswork. See less acne and pimples in just a few days, and more glowing skin in a matter of weeks.

Like any skincare strategy, it's important to stay consistent to see more predictable results. Second, should there be cases of purging, do contact the Customer Service so we can help you. Third, use Sunscreen if you go outside to protect your skin from UVA and UVB rays. We also suggest to improve diet, reduce consumption of dairy and improve hydration everyday.

Absolutely! Noah Solutions is FDA-registered with corresponding LTOs and all of our products are FDA-notified.

When it comes to oil and acne, you can see improvements in just days. For improved skin texture and more glowing skin, you can see best results in 3-4 weeks.
Hindi kupa na received order ko
I tried it di sya ganun ka overwhelming yung amoy parang fresh out of the bath yung amoy nya. I got too excited caused this was reviewed by John greg from youtube. I'll give it a try. 2 na inorder ko kasi nakuha sya sa sale.
Update: after using for 2 weeks I got complimented by some. I like it's sme
Smooth Operator… The loud and proud scent in a nice way. I can recommend this for everyday use but not for special occasions.
5-star because they have excellent customer service. They will not let you down.